Vintage Designer Clothing
Vin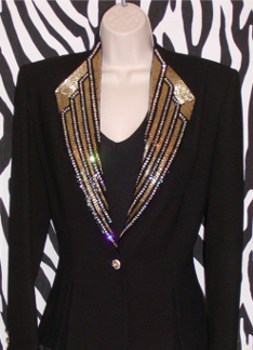 tage Designer Clothing is the finest among vintage clothing. Vintage designer clothing is often one-of-a-kind which makes it perfect for the individualist. The quality of vintage designer clothing is superb; the fabrics and even incidentals used are exquisite. The workmanship is superior to anything that's available in retail stores, today.
There is still another way to look at vintage designer clothing: every item has a history… Let's say, you pick up a coat from the early 60s and you're magically in tune with the style of Jacqueline Kennedy. Grab a vintage garb from early 70s and just imagine what shenanigans the original owner was involved in. We're talking about the hippie era, protests against the war in Vietnam, fight for racial equality and sexual liberation…. If you choose a vintage designer gown from the 80s, voila you can magically transform yourself into Crystal or Alexis Carrington from "Dynasty".
And of course, there are the legendary vintage designers. Let's pay homage to some of them.
Some of the most famous and best-loved vintage designers who shaped the history of fashion (in no particular order) are:
Coco Channel is an iconic French fashion designer of the 20th Century. Coco Chanel who is best known for creating the little black dress, her signature collarless suits, was the first fashion designer to include a perfume in her fashion line. The perfume is of course, Chanel No. 5. Coco Chanel is one of the unforgettable vintage designers recognized for her sense of style (she introduced a new way of wearing pearls) as well as for her somewhat scandalous personal life and savvy quotations. It was Channel who said "A woman has the age she deserves." Her label continues to thrive today, many years after her death.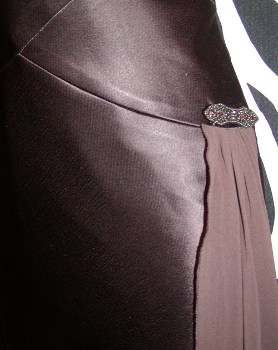 Christian Dior who was born in 1905 in France revolutionized the fashion of his era. In the late 40s he introduced the famous "New Look" which carried into the 50s (think of "I Love Lucy"). It was characterized by small shoulders, an accentuated waistline, and a full skirt. Later on, Dior presented us with the "sack" silhouette. He made Parisian fashion a worldwide phenomenon and holds his rightful place in the pantheon of top vintage designers. (His fashion empire continues.)
Yves Saint Laurent, one of the best Haute Couture designers started his career at the age of 18; at 21 he became a designer at Dior. He was the first to design trapeze dresses and an asymmetrical cocktail dress. He was the first to contrast bright colors with black. Created the "Le Smoking" tuxedo jacket, pantsuits, see-through blouses, bolero jackets and peasant blouses.
Oleg Cassini was a fashion designer of an incredible artistic vision who managed to reach the heights of fashion industry while leading a colorful life. Cassini's rich fashion legacy includes the the A-line dress, the sheath, the knit, the little white collar dress, and the Nehru jacket.
One of the most famous vintage designers, Oleg Cassini is best known for designing the wardrobe of Jacqueline Kennedy and creating her unique style. He's also worked with Hollywood movie studios, dressing many stars such as Marilyn Monroe, Natalie Wood and Grace Kelly. (Incidentally, he was engaged to Grace Kelly when she changed her mind and decided to marry the Prince of Monaco.) Cassini designed also men's suits and dressed Johnny Carson among others.
Oscar de la Renta who was born in the Dominican Republic is credited with creating fashion that combined European sense of luxury with American casual style and therefore influencing the definition of elegance in the late 20th and early 21 Century.
Oscar de la Renta trained for an artistic career until he became a designer at the fashion house of Cristóbal Balenciaga. He spent several years with the Haute Couture in Paris before moving to New York. He begun there by designing for Elizabeth Arden both, her Haute Couture and casual collections. Only two years later, Oscar de la Renta developed his own brand.
Under his own label, he achieved recognition for maintaining a soft, feminine characteristic in his designs whether they were intended for evening, casual or sport wear. His distinctive vision is characterized by soft silhouettes, vibrant colors, ruffles and soft, feminine fabrics. Even though his extensive fashion line included accessories, perfumes and menswear, he is best known for his evening attires and power suits for women which were worn by First Ladies Jacqueline Kennedy Onassis, Nancy Reagan, and Hillary Clinton.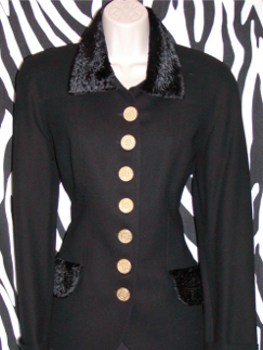 Among the most notable contemporary designers, whose older designs are considered vintage designer clothing today are:
Calvin Klein is well known for designing classic, quality clothing and his flair for provocative advertising, most notably his advertising campaigns for Obsession, men's underwear and blue jeans (Remember Brooke Shields stating "nothing comes between me and my Calvins"?) Yes, Calvin Klein's clothing from years past is the favorite of many vintage designer clothing's enthusiasts.
I'd be amiss if I didn't mention Donna Karan who became known as the chief designer with Anne Klein and eventually developed her own brand (first Donna Karan Co and then DKNY). She designs clothing for men and women but is best known for creating the contemporary feminine look that's characterized by her sharply styled blazers, sarong skirts, well-fitting pants and great coats. Her focus is on quality, style and femininity. I'm tempted to say that to some degree, Donna Karan follows the philosophy of her famous predecessor Coco Chanel who once said "luxury must be comfortable, otherwise it is not luxury."
Ralph Lauren's sense of fashion is best described in his own words: "I'm interested in longevity, timelessness, style – not fashion." Over time Ralph Lauren explored numerous directions from his famous Polo shirts, the safari look, preppy look and others. The consistent element of his designs however is the classic American style expressed in fine quality fabrics such as Tweed, Linen, Silk and Wool. (It comes as no surprise that he designed the costumes for the cast of the 1974 film adaptation of The Great Gatsby.) Clothing from his older collections is well-liked by fans of vintage designer clothing.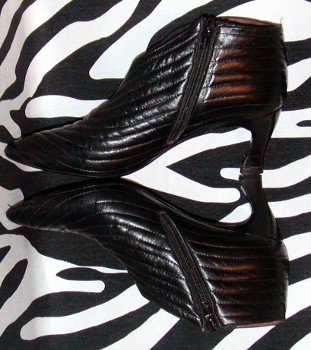 Gianni Versace – who was brutally murdered at the age of 50 – distinguished himself as the designer of "siren" dresses and the creative use of technology for fusing together the innovative materials he chose for his "neo-couture" (he used aluminum and rubber in his unique creations). His spectacular couture attracted worldwide following that included celebrities and royalty (Princes Diana was one of his celebrity-clients.) The huge fashion empire he created continues to grow strong today managed by his capable sister Donatella Versace.
There are many other – perhaps less known but equally talented – fashion designers who contributed their talent and shaped our sense of style over the past decades. Their enduring legacy is vintage designer clothing.
Vintage designer clothing represents history, mystery, nostalgia, "magic" and our enduring love affair with re-creating ourselves through our outfits.
Vintage designer clothing is unique, original and luxurious. With all that said, the greatest feature of vintage designer clothing is its character.
Fashion is fleeting, style is constant.
When you wear vintage designer clothing, you make a powerful statement: "I'm not one of the sheep who shop at the mall. I am my own person, defined by my own unique style."
And let's face it, designer vintage clothing is just the beginning. There is A LOT more, at least on this Website! There are Vintage Blazers, Vintage Suits, Vintage Coats, Vintage  Jackets, Vintage Jewelry, Vintage Evening Gowns, Vintage Shoes, Vintage Jeans, and plenty more on the way! There will be Vintage Dresses, Vintage Tops, Vintage Sweaters, Vintage Skirts, Vintage Pants, Vintage Lingerie, Vintage Shoes, Vintage Scarves, Vintage Handbags, and more soon…
Long story short, vintage is a STYLE!
No, not all items on Vintage Designer Clothing Website are vintage, just like not all of them are previously used. There are some items that were never used and some items that are especially artistic or luxurious. With that said, if you appreciate vintage clothing and the finer things in life, you may just find our unique concept appealing…